I will be running several full day self defence workshops over the coming months.
These will be held on the Saturdays 30th July, 6th August, and 3rd September, other dates may be added depending on demand.  They will run from 10am til 4pm with an hour break for lunch.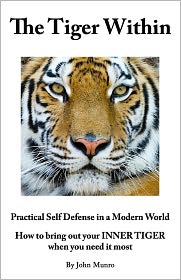 The workshops are based on the book 'The Tiger Within' and will cover in depth:
Awareness and mindset
Assertiveness
Reflexes
Effective striking
Breaking free from grapples, grabs and traps
Scenario role playing
Current Kung Fu students will find the workshops useful for contextualising what they have learned and applying it to a self defense situation.  You may also have friends or family who would be interested in some self defence training but do not have time to learn a martial art.  This workshop will be ideal for them as it will give them a good basic skillset over a very short period of time.  No prior training is necessary to attend this workshop. 
The full price for these workshops is $100 for the day.  There is however going to be a special offer run through www.dailydo.co.nz on Saturday 23rd July which will make this workshop available for $35.  This is a very special price which will only be available for one day through daily do, so let your friends and family know to watch out for it!